(L-R) Kyle Forsley, Andrew Ahlquist, Odette Mansour, Casey Costello, Andreas Kotsironis, Salvatore Quinci, Dante Boncaldo, Griffin Cauley, Joesph Shuey
The Executive Committee is responsible for the overall performance of the portfolio. They ensure investment decisions are in line with the long-term objectives of the Fund. The Board sets the overall investment strategy for the semester. This includes deciding on the asset allocation to the Fixed Income Fund and the Equity Fund along with the sector weighting recommended by the Macroeconomic Committee. 
The Executive Committee serves as a liaison between the Portfolio Managers and the course professor, providing feedback on the structure and content of the Portfolio Management and Securities Analysis classes. The Executive Committee takes the responsibility of interviewing applicants, recommending changes to the Investment Policy Statement, delegating and ensuring the completion of individual committee obligations, and ensuring a smooth transition between Portfolio Management classes.
PORTFOLIO MANAGERS
Back Row (L-R):  Andrew Ahlquist, Max Casella, Matt Roethlein, Alexander Seymour, Eduardo Peralta, Joesph Shuey, Griffin Cauley, Cam Bolduc, Kyle Forsley, Andrew Betzig, Anthony Salisbury, Giovanni Santoro Vinas, Nicholas Mirecki, Marc Taglieri, William Milewski 
Front Row (L-R): Andres Molina, Michael Sweet, Paul Castro, Odette Mansour, Olivia Bates, Lucie Castagne, Casey Costello, Maria  Stanitsas, Salvatore Quinci, Dominick Polito, Riley Van Duzer, Dante Boncaldo, Mason Drouin
PORTFOLIO MANAGERS
Back Row (L-R):  Salvatore Qunci, John Henry Dyroff
Sectors
CONSUMER SECTOR
(L-R): Dominick Polito, Lucie Castagne, Maria Stanitsas, Cameron Bolduc, Mason Drouin
COMMUNICATION SERVICES SECTOR
(L-R): Alexander Seymour, Odette Mansour, Olivia Bates, Andreas Kotsironis
EMU SECTOR
(L-R): Andrew Betzig, Giovanni Santoro Vinas, Max Casella, Anthony Salisbury
FINANCIAL & REAL ESTATE (FIRE) SECTOR
(L-R): Dante Boncaldo, Salvatore Quinci, Michael Sweet, Andrew Ahlquist
HEALTHCARE SECTOR
(L-R): Griffin Cauley, Eduardo Peralta, Matthew Rothlein, Casey Costello
INDUSTRIAL SECTOR
(L-R): Marc Taglieri, Riley Van Duzer, Kyle Forsley, Joseph Shuey
TECHNOLOGY SECTOR
(L-R): Nicholas Mirecki, William Milewski, Andres Molina, Paul Castro
PREVIOUS STUDENT LEADERSHIP
Portfolio Managers
EQUITY FUND PORTFOLIO MANAGERS

Front (L-R): Tommy DiTulio, Peter Day, Frederik Otte, Brayden Roy, Raymond Pinto, Jason Rothman, Dylan Baker, Ryan Fleck, Clara Cole, Jackie Prestininzi, Will Ronan, Robert Schunder, Tyler Guillemette 
Back (L-R): Raghav Chandak, Haralambos Papadopoulos, Dan McCormack, Nick Quinn, Dom Boutot, Aidan Smith, Christian Negrotti, Austin Davis, Ryan Sulvester, Mike Fiorenza, Liam Peterson, Carmine Palmisano, Ryan Schoffield
FIXED INCOME PORTFOLIO MANAGERS
(L-R):  Samantha Sczepanski, Filipe Sousa, Raj Khaderia, Connor Gleim, JohnHenry Dyroff, James Montgomery, Andreas Kotsironis, Stephen O'Leary, Giovanni Santoro Vinas, Nathan Farcash, Salvatore Quinci
Sectors
CONSUMER SECTOR
(L-R): Tommy DiTullio, Liam Peterson, Nick Quinn, Jackie Prestininzi
COMMUNICATION SERVICES SECTOR
(L-R): Peter Day, Jason Rothman, Dom Boutot, Will Ronan
EMU SECTOR
(L-R): Ryan Sulvester, Christian Negrotti, Ryan Fleck, Clara Cole
FINANCIAL & REAL ESTATE (FIRE) SECTOR
(L-R): Carmine Palmisano, Robert Schunder, Tyler Guillemette, Dylan Baker
HEALTHCARE SECTOR
(L-R): Raghav Chandak, Brayden Roy, Frederik Otte
INDUSTRIAL SECTOR
(L-R): Aidan Smith, Mike Fiorenza, Ryan Schoffield
TECHNOLOGY SECTOR
(L-R): Raymond Pinto, Austin Davis, Henry Papadopolous, Dan McCormack
Executive Committee
(L-R): Raghav Chandak, Aidan Smith, Jackie Prestininzi, Dylan Baker, Connor Gleim, JohnHenry Dyroff, Brayden Roy, Nick Quinn, Ryan Fleck, Jason Rothman
Portfolio Managers
EQUITY FUND PORTFOLIO MANAGERS

Front (L-R): Nick Hasselman, Miguel Betances Pichardo, Jonathan Sadowski, Molly Haberman, Carolyn Pinchiaroli, Justine Fritz, Anxhela Elezaj, Jordan Gervasi, Ali Weisheit, Anthony Frascogna, Alex Leduc, Andrew Hinckley, Kevin Groeninger, Ryan Dobrzynski, Manuel Ferro
Back (L-R): Darnel Shillingford, Tyler Amato, Ben Rioux, Samuel D'Agostino, Hayden Curley, Jack Field, Jack Woods, John English, Grant Alix, Connor Gleim, Will Stearns, Brody Rule, Jake Williams, Earn Patry
FIXED INCOME PORTFOLIO MANAGERS
(L-R): Aidan Costello, Will Sterns
Sectors
CONSUMER SECTOR
(L-R): Manuel Ferro, Ryan Dobrzynski, Ali Weisheit, Kevin Groeninger, Alex Leduc
COMMUNICATION SERVICES SECTOR
(L-R): Hayden Curley, Jonathan Sadowski, Jordan Gervasi, Molly Haberman
EMU SECTOR
(L-R): Anthony Franscogna, Jake Williams, Connor Gleim, Brody Rule
FINANCIAL & REAL ESTATE (FIRE) SECTOR
(L-R): Samuel D'Agostino, Darnel Shillingford, John English, Anxhela Elezaj
HEALTHCARE SECTOR
(L-R): Ean Patry, Andrew Hinckley, Nick Hasselman, Carolyn Pinchiaroli
INDUSTRIAL SECTOR
(L-R): Jack Woods, Jack Field, Will Stearns, Tyler Amato
TECHNOLOGY SECTOR
(L-R): Justine Fritz, Ben Rioux, Grant Alix, Miguel Betances Pichardo
Executive Committee
(L-R):  Jonathan Sadowski, Ben Rioux, Jake Williams, Will Stearns, Anxhela Elezaj, Connor Gleim, Ryan Dobrzynski, Manuel Ferro
Portfolio Managers
EQUITY FUND PORTFOLIO MANAGERS

Front (L-R): Ryan Erickson, Benjamin Heyman, Andrew Forchetti, Professor Kevin Maloney, Kaitlyn Manghirmalani, Sara Gendron, Trinity Lennon, Professor Asli Ascioglu, Emily Williams, Julia Ayres, Ryan Bebyn, Jared Wu, Gregory Farrell
Back (L-R): Michael Kelley, Ryan Gabriele, Martin Dale, Daniel Hamza, John MacDonald, Jackson Harrigan, Ryan Reinsant, Ryan Ramirez, Thomas Galligan, Nicholas Poulos, Joseph Cuggino
FIXED INCOME PORTFOLIO MANAGERS
(L-R): Timothy Dwyer, James Stoker, Thomas Fromer, Joseph McIrney 
Sectors
CONSUMER SECTOR
(L-R): Emily Williams, Trinity Lennon, Andrew Forchetti, Benjamin Heyman
COMMUNICATION SERVICES SECTOR
(L-R): Derek Knobloch, Julia Ayres, Jared Wu, Gregory Farrel
EMU SECTOR
(L-R): Martin Dale, John MacDonald, Daniel Hamza
FINANCIAL & REAL ESTATE (FIRE) SECTOR
(L-R): Jackson Harrigan, Ryan Reinsant, Ryan Bebyn, Thomas Galligan
HEALTHCARE SECTOR
(L-R): Sara Gendron, Joseph Cuggino, Kaitlyn Manghirmalani
INDUSTRIAL SECTOR
(L-R): Nicholas Poulos, Michael Kelley, Ryan Erickson
TECHNOLOGY SECTOR
(L-R): Ryan Ramirez, Ryan Gabriele, John Landry
Executive Committee
(L-R): Jared Wu, Kaitlyn Manghirmalani, Michael Kelley, Martin Dale, Thomas Galligan, Julia Ayres
Portfolio Managers
EQUITY FUND PORTFOLIO MANAGERS

Front (L-R): Andrew Whalen, Bryan Herlihy, Edward Cronin, Ricardo Martinez-Moretta, Matthew Wassersug, Hunter Poitras, Brett Traficante, Vincent Conti, Greg Mitrakas, Christopher Nicolay, Colton Scholl, Ryan Donahue, Will Swart, Eric Bebel, Gianni Demerski
Back (L-R): Michael Mariano, Sean McBride, Ian Whitehead, Jacqueline Gilmartin, Nicholas Powell, Owen Sampson, Lauren Medeiros, Maxwell Lajeunesse, Abbey Allen, Henri Guerin, Ziv Yu, Maegan Murphy, John Gilhooly, Joshua Kearney
FIXED INCOME PORTFOLIO MANAGERS
Front (L-R): Timothy Dwyer, James Stoker, Thomas Fromer, Joseph McIrney 
Back (L-R): Moises Almansa, Owen Lavelle, Hannah Garvey, Kylee LaCreta, Jack Salan
Sectors
CONSUMER SECTOR
(L-R): Gianni Demerski, Lauren Medeiros, Abbey Allen, Ryan Donahue
COMMUNICATION SERVICES SECTOR
(L-R): Ian Whitehead, Nicholas Powell, Sean McBride, Michael Mariano
EMU SECTOR
(L-R): Matthew Wassersug, Joshua Kearney, John Gilhooly, Will Swart
FINANCIAL & REAL ESTATE (FIRE) SECTOR
(L-R): Greg Mitrakas, Colton Scholl, Jacqueline Gilmartin, Vincent Conti, Henri Guerin
HEALTHCARE SECTOR
(L-R): Christopher Nicolay, Maegan Murphy, Ziv Yu, Bryan Herlihy
INDUSTRIAL SECTOR
(L-R): Brett Traficante, Hunter Poitras, Eric Bebel, Ricardo Martinez-Moretta
TECHNOLOGY SECTOR
(L-R): Andrew Whalen, Maxwell Lajeunesse, Kyle Sampson, Edward Cronin
Executive Committee
Front Row (L-R): Jack Salan, Joshua Kearney, Abbey Allen, Lauren Medeiros
Back Row (L-R): Maegan Murphy, Bryan Herlihy, Timothy Dwyer, Edward Cronin, John Gilhooly
Portfolio Managers
EQUITY FUND PORTFOLIO MANAGERS

Top (L-R): Kojo Appiah, Zachary Babineau, Timothy Baker, Joshua Carlson, Natalie DiMichele, William Felix, Lucas Florio, Nicholas Gannon
Bottom (L-R): Alexander Goldman, Melissa Hernandez, Miles Manning, Jake Michalewicz, Daniel Murphy, Alex Skyu, Christopher Tzimorangas, Yuan Yao
FIXED INCOME PORTFOLIO MANAGERS
Top (L-R): Michael Alferi, Daniel Bennett, Paul Ferrechia, Michael Grassetti, Garret Hagen
Bottom (L-R): Stan Hultin, Hongsen Li, Liam Roberts, Peter Williams
Sectors
CONSUMER SECTOR
(L-R): Natalie DiMichele, William Felix
COMMUNICATION SERVICES SECTOR
(L-R): Lucas Florio, Nicholas Gannon
EMU SECTOR
(L-R): Daniel Murphy, Christopher Tzimorangas, Alex Syku
FINANCIAL & REAL ESTATE (FIRE) SECTOR
(L-R): Kojo Appiah, Joshua Carlson
HEALTHCARE SECTOR
(L-R): Zachary Babineau, Yuan Yao
INDUSTRIAL SECTOR
(L-R): Miles Manning, Jake Michalewicz
TECHNOLOGY SECTOR
(L-R): Timothy Baker, Alexander Goldman, Melissa Hernandez
Portfolio Managers
EQUITY FUND PORTFOLIO MANAGERS

Front (L-R): Andrew Nolan, Colin Hurley, Mitch Zaniboni, Elizabeth Surabian, Erica Burke, Olivia Green, Dylan Toumayan, Mateo Laverde, Kyle Scafariello
Back(L-R):  Nathan Zaslow, Donato Caracciolo, Cole Hollis, Christopher Dodd, Zhengyan Chen, Kiernan Haley, Jax Theriault, Shea Mahan
Middle (L-R): Andre Gomez, Michael O'Brien, Nathan Cullivan, Tyler Zinko, Brian Chant, Jack Aigner, Eric Fontaine, Matthew Dona, Billy Wysocki
FIXED INCOME PORTFOLIO MANAGERS
Front (L-R): Kyle Lyman, Andrew Faggio, Marissa Grasso, Steven Berman, Sean Cappellini, Brendan Curtin
Back(L-R): Christopher Benken, Ashton Kozlowski, Mario Wilson, Matt Ryan, Eric Fontaine, Chadd Willett, Jonathan Allen
Sectors
CONSUMER SECTOR
(L-R): Tyler Zinko, Jack Aigner, Colin Hurley, Brian Chant, Donato Caracciolo
COMMUNICATION SERVICES SECTOR
(L-R): Kiernan Haley, Kyle Scafariello, Nathan Cullivan
EMU SECTOR
(L-R): Nathan Zaslow, Cole Hollis, Olivia Green, Mitch Zaniboni
FINANCIAL & REAL ESTATE (FIRE) SECTOR
(L-R): Eric Fontaine, Christopher Dodd, Shea Mahan
HEALTHCARE SECTOR
(L-R): Mateo Laverde, Elizabeth Surabian, Michael O'Brien, Andrew Nolan, Erica Burke
INDUSTRIAL SECTOR
(L-R):  Jax Theriault, Billy Wysocki, Andre Gomez
TECHNOLOGY SECTOR
(L-R): Matthew Dona, Zhengyan Chen, Dylan Toumayan
Executive Committee
(L-R): Christopher Benken, Cole Hollis, Elizabeth Surabian, Eric Fontaine, Mitch Zaniboni, Nathan Cullivan, Erica Burke, Shea Mahan
Portfolio Managers
EQUITY FUND PORTFOLIO MANAGERS

Back (L-R): Jiahao Zhang, Nathan Kriplin, Derek Westhaver, Austin Bertrand, Alexis Arsenis, Michael Lynch, Matthew Stafford,  Peter Vise, Joseph Goncalves Back Row
Back (L-R): Jaret Petruzzelli, Matthew Early, Kavan Drake, Scott Bagley, Michael Barry, Hunter Quinn, Robert Davis, Brian Seserman, Benjamin Lewis, Juan Gonzalez, Kyle Marek, Jack Molito, Matthew Ferrugiari
FIXED INCOME PORTFOLIO MANAGERS
(L-R): Stephen Jones, Matthew Mancini, Shane Cardi, Lauren Lo, Stephen Henshaw, Owen McCoubrey
Sectors
CONSUMER SECTOR
(L-R): Kavan Drake, Jack Molito, Jiahao Zhang, Scott Bagely
COMMUNICATION SERVICES SECTOR
(L-R): Hunter Quinn, Michael Lynch, Rob Davis
EMU SECTOR
(L-R): Brian Seserman, Jaret Petruzzelli, Juan Gonzalez
FINANCIAL & REAL ESTATE (FIRE) SECTOR
(L-R):  Kyle Marek, Peter Vise, Michael Barry
HEALTHCARE SECTOR
(L-R): Derek Westhaver, Alexis Arsenis, Matthew Stafford
INDUSTRIAL SECTOR
(L-R): Nathan Kriplin, Austin Bertrand, Matthew Early
TECHNOLOGY SECTOR
(L-R): Benjamin Lewis, Matthew Ferrugiari, Joseph Goncalves
Executive Committee
(L-R): Brian Seserman, Stephen Jones, Michael Barry, Hunter Quinn, Alexis Arsenis, Juan Gonzalez, Joe Goncalves 
Portfolio Managers
FIXED INCOME PORTFOLIO MANAGERS

Sectors
CONSUMER SECTOR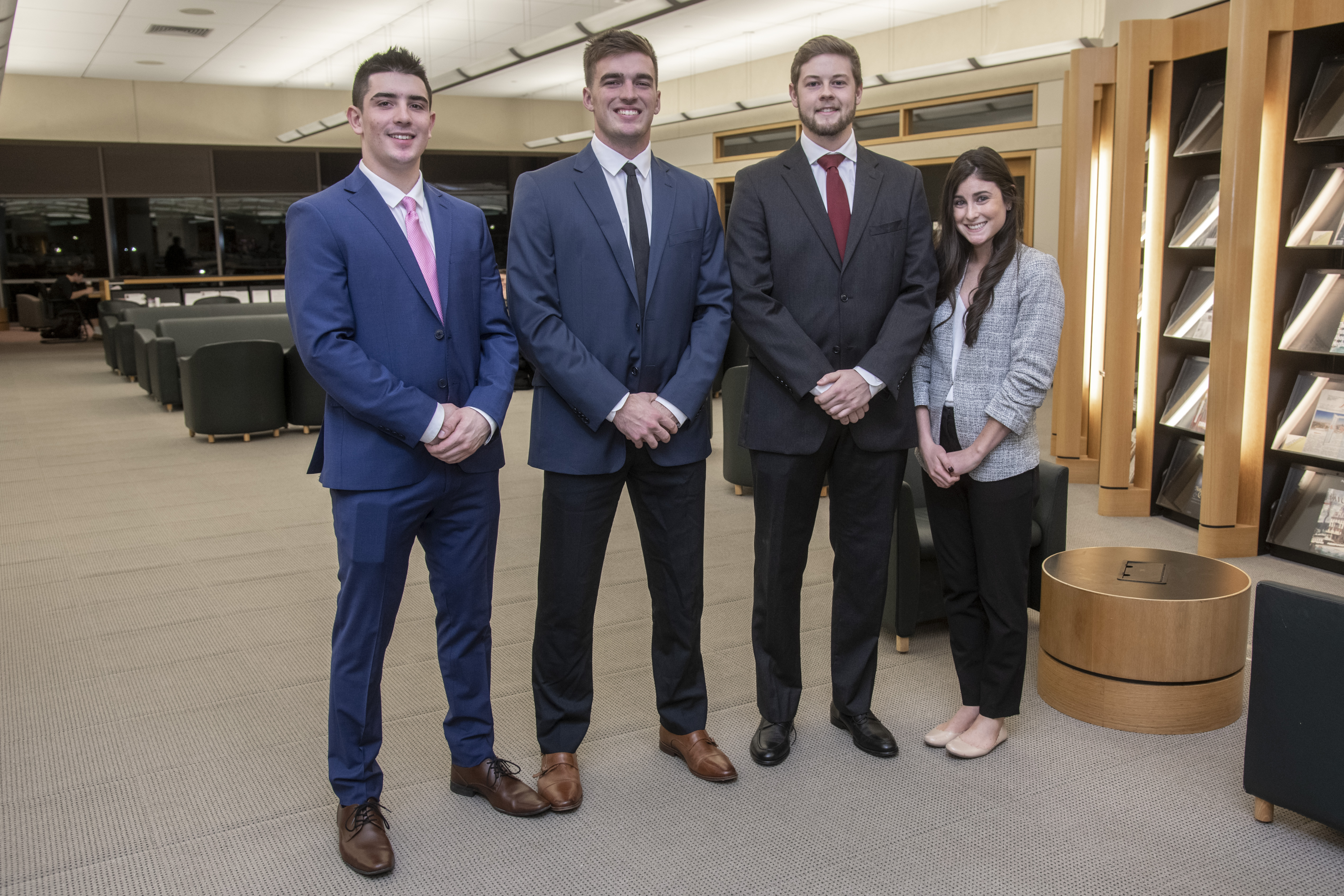 (L-R): Jack Callahan, kevin Quigley, Markus Borjestedt, Sophie Mulcahy
COMMUNICATION SERVICES SECTOR
(L-R): Jordan Friedman, Tyler Poland, Michael Pascuccio
EMU SECTOR
(L-R): Ryan Aravind, Michael Chodziutko, Vedant Vyas
FINANCIAL & REAL ESTATE (FIRE) SECTOR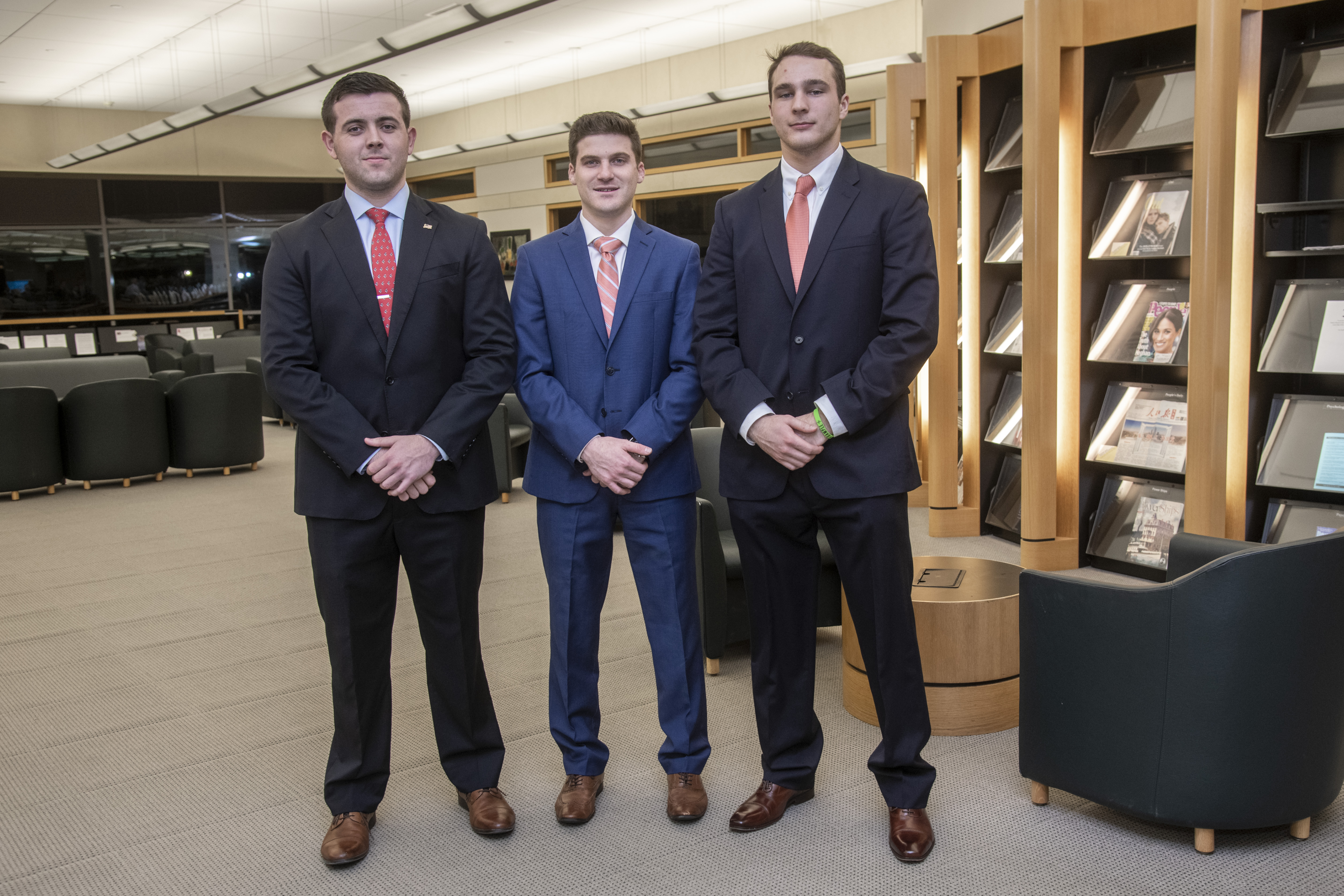 (L-R): Brett Miner, Andrew McAvoy, Trevor Weingarten
HEALTHCARE SECTOR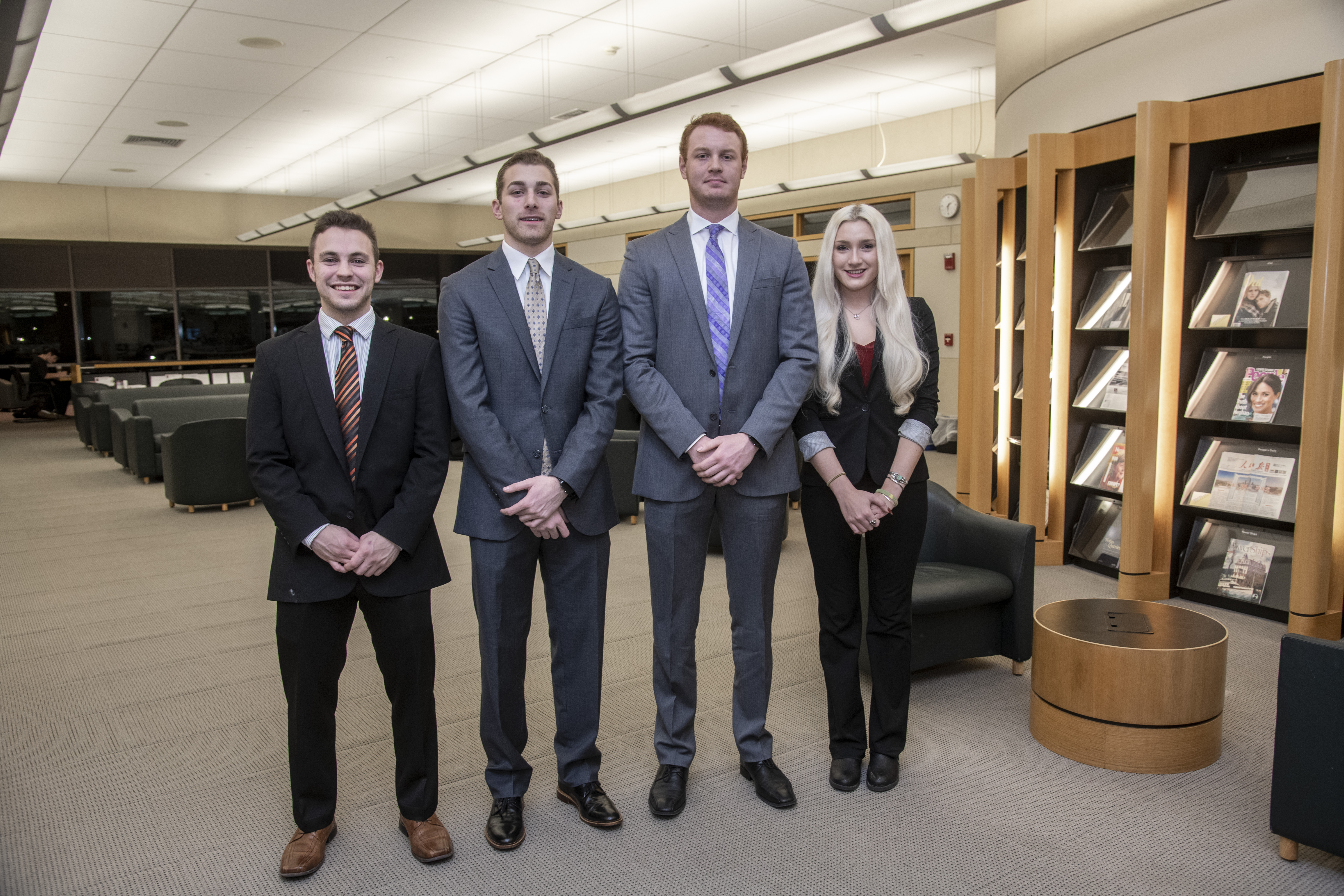 (L-R): Kyle Svenson, Blake Schneider, Andrew Zilonis
INDUSTRIAL SECTOR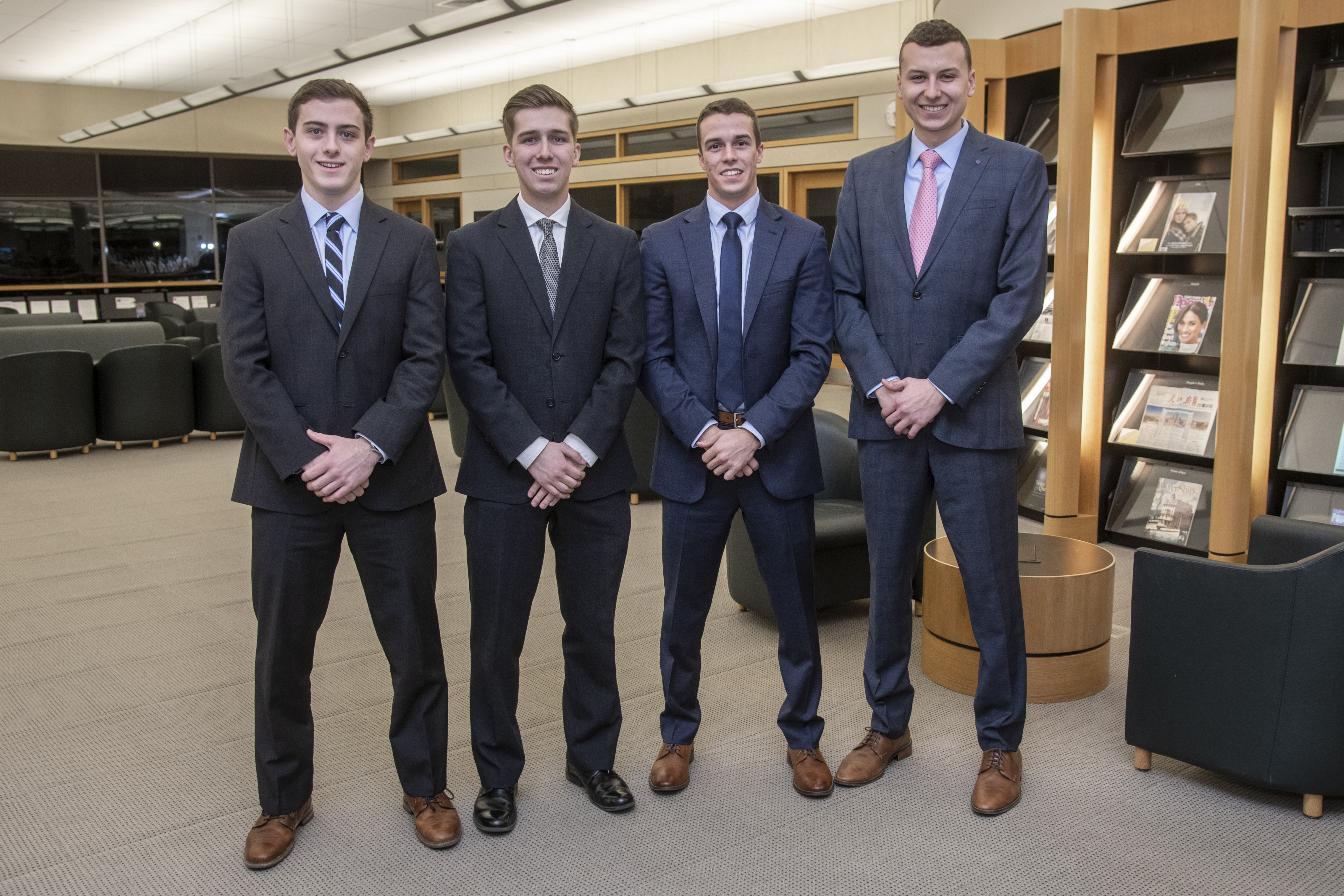 (L-R): Matthew Plaziak, Tyler Lord, Nicholas Pietrantozzi, Mark Gravina
TECHNOLOGY SECTOR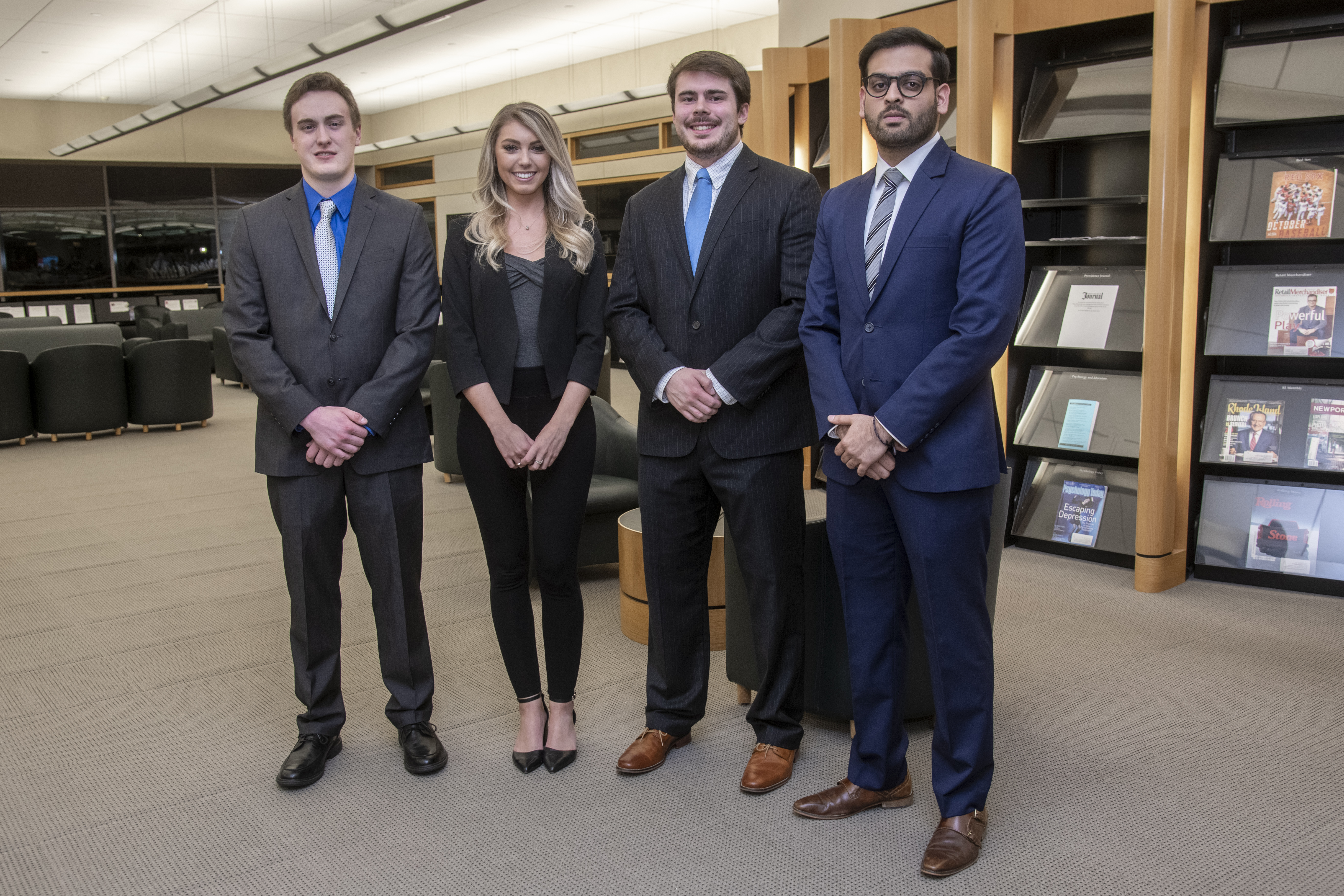 (L-R): Chris Rollins, Bailey Medeiros, Chris Jenkins, Kushagra Sachdeva
Executive Committee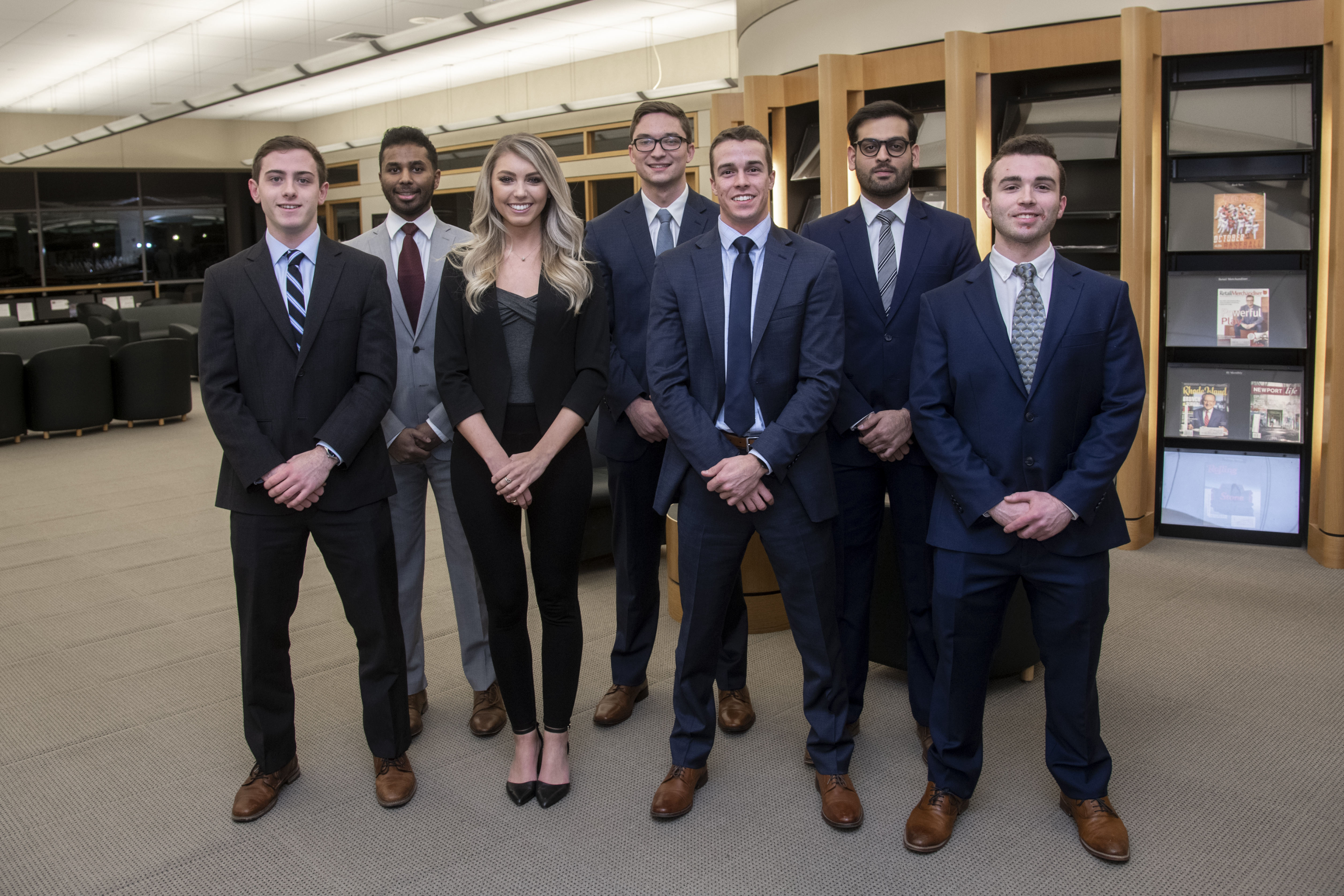 (L-R): Matt Plaziak, Ryan Aravind, Bailey Medeiros, Michael Chodziutko, Nicholas Pietrantozzi, Kushagra Sachdeva, Cameron Iarrobino
Portfolio Managers
EQUITY FUND PORTFOLIO MANAGERS

Sectors
CONSUMER SECTOR
EMU SECTOR
FINANCIAL & REAL ESTATE (FIRE) SECTOR
HEALTHCARE SECTOR
INDUSTRIAL SECTOR
TECHNOLOGY SECTOR
Portfolio Managers
FIXED INCOME PORTFOLIO MANAGERS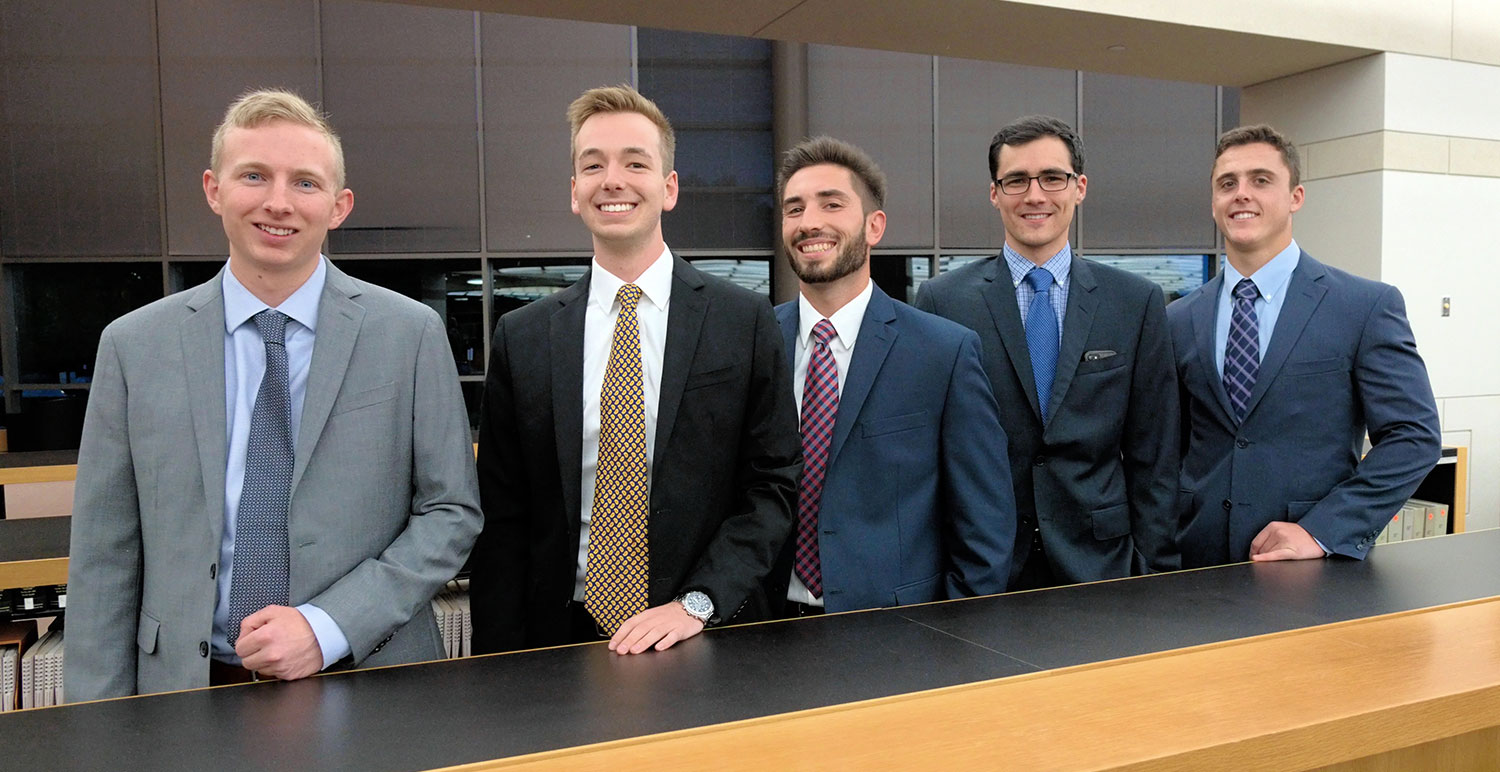 Sectors
CONSUMER SECTOR
EMU SECTOR
FINANCIAL & REAL ESTATE (FIRE) SECTOR
HEALTHCARE SECTOR
INDUSTRIAL SECTOR
TECHNOLOGY SECTOR