EVENT
AIF Portfolio Managers'
Final Presentation 
December 13, 2023
6:30-8:30pm
EVENT
AIF Portfolio Managers'
Final Presentation 
May 3, 2023
6:30-8:30pm
EVENT
AIF Portfolio Managers'
Final Presentation 
December 7, 2022
6:00-8:30pm
EVENT
AIF Portfolio Managers'
Final Presentation 
May 4, 2021
6:00-8:00pm
EVENT
AIF Portfolio Managers'
Final Presentation 
December 7, 2021
6:00-8:00pm
EVENT
AIF Portfolio Managers'
Final Presentation 
April 30, 2020
6:00-8:00pm
AIF Portfolio Managers'
Final Presentation 
May 2, 2019
6:30-8:30pm
AIF Portfolio Managers' Final Presentation
December 11, 2018
6:30-8:30pm
AIF Porfolio Managers' Final Presentation
May 4, 2018
6:30-8:30pm
Financial Service Forum
April 13, 2018
Women in Finance Keynote Speaker: Cheryl Nash 

AIF Portfolio Manager' Final Presentation
December 7, 2017
6:30-8:30pm
Financial Service Forum
Alumni Engagement Day
March 24, 2017
Alumni Engagement Day showcased the wide range of experience of some of Bryant's most successful alumni. Alumni shared their expertise about pathways to success in the financial services industry, entrepreneurship, and innovation and opportunities in healthcare. The sessions were attended by students, faculty, staff, parents, guests as well as alumni. View photos on Facebook.
Archway Investment Fund program students hosted the 12th annual Financial Services Forum, a culmination of the students' work managing a fund that has surpassed the $1.4 million mark. Current students to present their hands-on learning experiences to alumni and other distinguished professionals in the banking, finance, and financial services fields. The keynote speaker was Robert P. Brown '86, head of institutional fixed income at Fidelity Investments. View Event Program.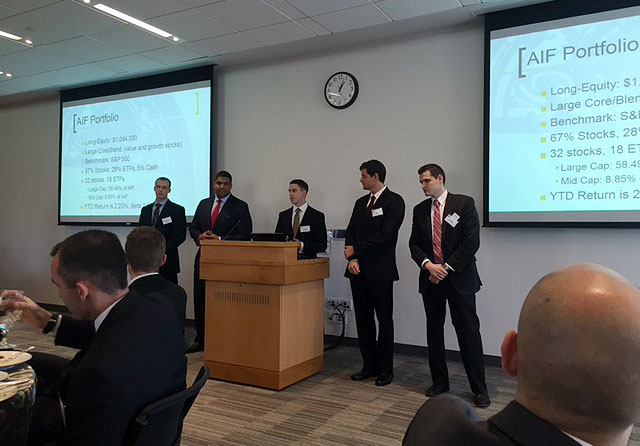 Smart Women in Finance
Alumni Engagement Day
March 24, 2017
Smart Women in Finance is a new student-sponsored organization that inspires the increased involvement of women and minority students in finance by offering informative, hands-on academic and social experiences related to the industry. Highlighted events include biweekly educational speakers, monthly women in finance speakers, and an annual women's panel at the Financial Services Forum. The keynote speaker at the March event was Susan Baker, Vice President at Trillium Asset Management.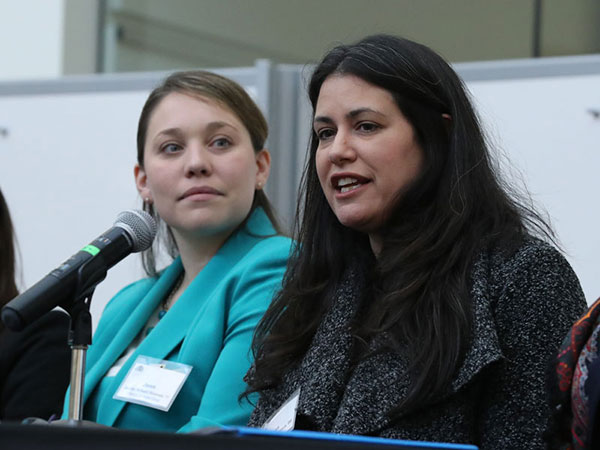 Quinnipiac Global Asset Management (GAME) Forum
AIF Awarded First Prize in 2017, 2018, and 2020
Archway Investment Fund students participated in the student-managed fund GAME Forum in 2016 and 2017. At the 2017 event in New York City, the Archway team won First Prize in the Growth Category.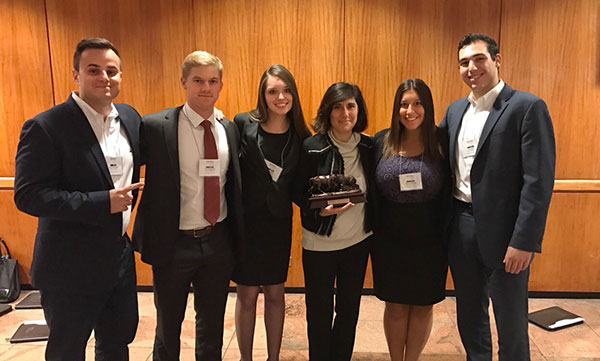 Stock Pitch Presentations
at Doshi Capital and
SeaWolf Capital  
Spring 2016
Four AIF student portfolio managers traveled to New York City to present stock recommendations to alumni professional fund managers.