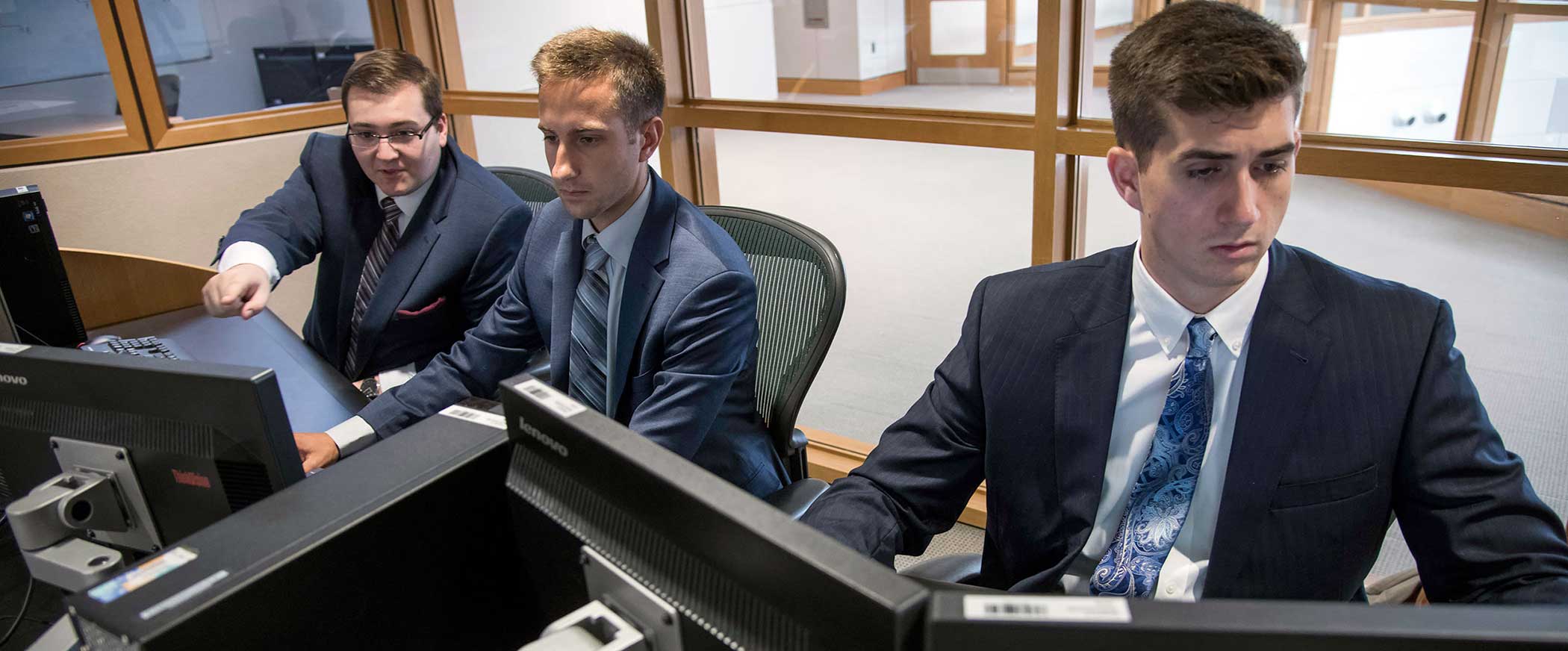 C.V STARR FINANCIAL MARKETS CENTER

The Financial Markets Center (FMC), together with a core set of courses built around the IT capabilities of the FMC, constitute a state-of-the-art educational tool. Through the Center, Bryant University provides an all-encompassing real-world educational experience in which students are immersed in a state-of-the-art financial markets environment.
Students observe the flow of financial information in real time and practice with cutting-edge tools that solve problems and answer questions. The experience contributes to AIF graduates' ability to hit the ground running in financial-related fields after earning their degrees.
FACTSET
FactSet delivers analytics, service, content and technology for professional in finance. There are 29 terminals available in the FMC. Any Bryant student access to FactSet in the FMC during open hours. Every semester, the schedule of FMC is posted on the door. During open hours, an FMC assistant can provide help for students. All Bryant students majoring/minoring in finance can request a web version of the product from their professors when taking upper level finance courses.
For information: www.factset.com
BLOOMBERG
Bloomberg is a major global provider of business, market news, financial data and analysis tools. There are a total of 12 terminals. One terminal is in the FMC, the other terminals are just outside the FMC around the corner area. Bryant students can book a terminal using the Library Portal.
For information: www.bloomberg.com
MSCI-ESG
MSCI is a global provider of equity, fixed income, hedge fund stock market indexes, and multi-asset portfolio analysis tools. 
For information: www.msci.com
THE WALL STREET COUNCIL



The Wall Street Council is a membership organization of Bryant alumni, parents, and friends who work in investments, finance, banking, brokerage, or other financial services fields, on or off Wall Street. Members agree to make a financial contribution and to help students aspiring to Wall Street careers by providing job shadowing and internship opportunities, mentoring and speaking to classes, or offering jobs to qualified Bryant graduates.
Students Participate Free
Students gain hands-on job experience and make connections with influential professionals who are well-positioned to help jumpstart their careers. "If you're a student, we're saying to you: here are people who were once on the same path you're on, and now you have access to them," says Steve Tully '98, director of institutional client service at Cantillon Capital Management and co-founder of the organization. "There's absolutely nothing better than that."
Career Enrichment
Bryant students aspiring to financial services careers gain professional insight, learn real-world skills, and make key contacts as they take part in internships, mentoring, job shadowing, and other experiences with Council members' firms.
Networking 
Students and Council members become part of a powerful Bryant network tightly-focused on the financial services industry. The network is an ideal forum for sharing ideas and connections.
Expertise-Enhancing Events
Throughout the year, the Bryant Wall Street Council hosts events at Bryant and on Wall Street that provide the opportunity to engage with influential financial services leaders.
The Wall Street Council was founded by Eric Bertrand '94, Nicholas Bohnsack '00, Nanette Buziak '93, Edward Fasano '94, and Stephen Tully '98.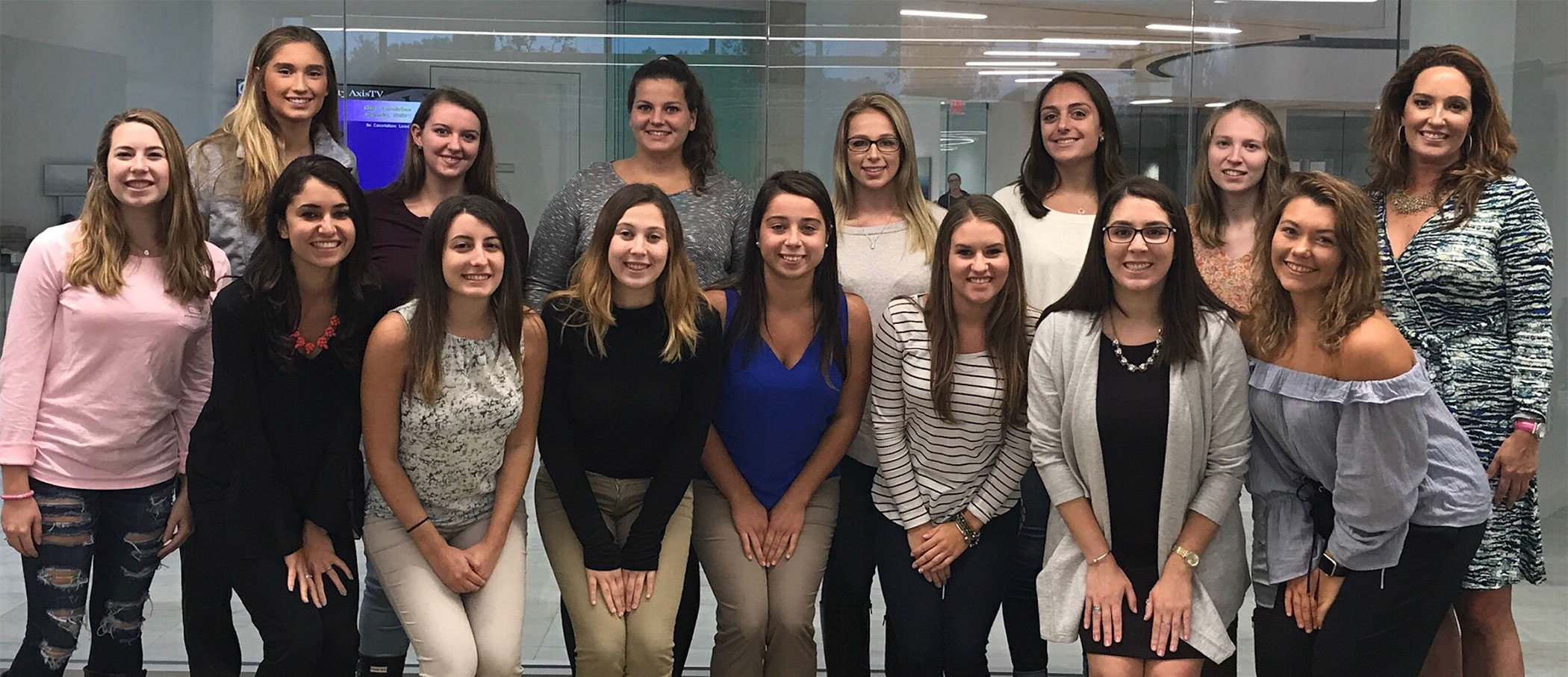 SMART WOMEN IN FINANCE
Smart Women in Finance is a student-run organization with the mission of broadening the involvement of women and minority students in finance. Informative, hands-on academic and social experiences related to the finance industry are offered throughout the year.
Events are separated into three categories: Educational Biweekly Speakers focused on financial planning topics believed to be beneficial for EVERY student; The Women in Finance Speaker Series focused on various career paths and success stories of Bryant alumni; and Co-Sponsored Events designed to grow the organization and attract students to the mission and offerings. 
UPCOMING EDUCATIONAL SPEAKERS: 
October 30th: The Hartford speaks about student loans and paying off debt
November 13th: AXA Advisors speaking about retirement and tax planning
November 27th: TBA
December 11th: Semester farewell meeting and Linkedin Seminar
WOMEN IN FINANCE SERIES
(3rd Wednesday of every month, featuring successful women alumni in the field)
Guests and Dates TBA
CO-SPONSORED EVENTS
Guests and Dates TBA